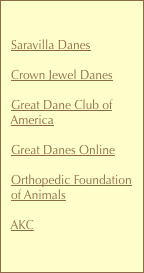 Ch. Beaubaton Dromoland V Saravilla X Saravilla Oh'Bellaveeta
whelped 09/23/05
Rosie is our cherished little girl. She has a wonderful personality, with exceptional topline, angles, dentition, and movement.
She has been selectively shown under professional handler Darlene Bergan and is pointed from the puppy classes.
Rosie is now home "growing up", but be sure to watch for her in the coming year as she matures.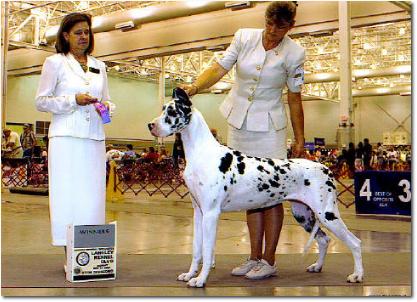 Rosie taking Winners Bitch for 2 points under judge Beverly Eichel, Langley Kennel Club, 05/27/07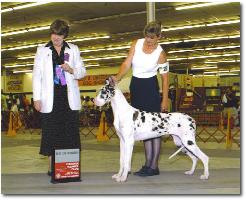 Rosie taking Best of Winners for her first 2 points at 9 months of age under judge Christine Pratt, Va Kennel Club, 06/24/06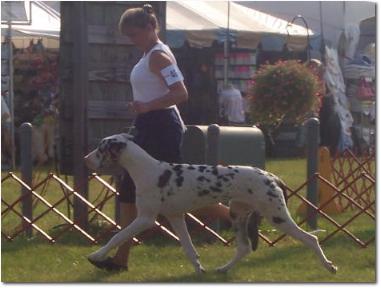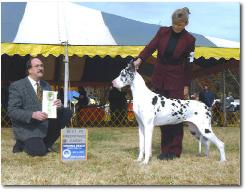 Rosie taking Best Jr in Sweeps under judge John Bolte, VA Beach Kennel Club, 11/04/06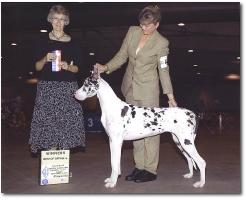 Rosie taking Best of Opposite under judge Nancy Simmons at Salisbury Kennel Club, 09/03/06 for 1 point.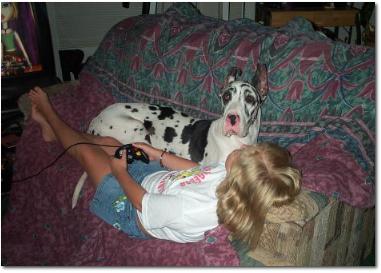 ...doing what she enjoys most.
Sire
Ch. Beaubaton's Dromoland V Saravilla
Harl

Sire
BISS.Ch. Vi-Daynes Johnny
Harl

Sire
Ch. BMW Architect of Jericho

Sire
BMW Snow Flurry

Dam
BMW Opium

Dam
Vi-Dayne's Memory V Venus

Sire
Manatasquot's James Taylor

Dam
Vi-Dayne's Venus V RockRidge

Dam
Leigh's Madame Maxime
Mantle

Sire
Ch.Harlwood Archangel Gabrielle

Sire
CH Amherst-Harlwood Bubba Rondo
WP385221/08 09-93
Harl
AKC DNA #V26540

Dam
CH Amherst-Harlwood Gabrielle
WP416779/03 03-95
Harl
OFA26F

Dam
Manatasquot Celine Dion

Sire
Manatasquot Meatloaf

Dam
Manatasquot Tankini Blanc

Dam
Saravilla Oh'Bellaveeta

Sire
CH Harlwood-Briggadane Ricochet
WP761407/07 03-02
Black & White
OFA24G AKC DNA #V263275

Sire
CH Amherst-Harlwood Bubba Rondo
WP385221/08 09-93
Harl
AKC DNA #V26540

Sire
CH Riverwood's Rondo
WG383756 04-91
Harl
OFA29E

Dam
Dan-Mar's Jazmin Potpourri
WG408103 05-92
Harl
OFA29G

Dam
CH Amherst-Harlwood Gabrielle
WP416779/03 03-95
Harl
OFA26F

Sire
CH Stiegerhill Trail Blazer
WF998059 04-90
Harl
OFA48G

Dam
CH Amherst's Jilly
WG160488 09-90
Harl

Dam
Saravilla's Cinemax V Sanmar
WR024483/01 08-03
Harl

Sire
CH Saravilla's Lucky Man
WP742698/01 12-98
Harl
AKC DNA #V128218

Sire
Mimi's Maximillian
WP392195/01 04-95
Harl

Dam
Ag Danes Kailey
WP331960/02 07-94
Harl
OFA24G

Dam
Raudane Lady Star V Prinzel
WP885345/04 08-00
Harl

Sire
CH Riverwood's Nitro
WP721683/03 05-98
Harl
OFA24F OFEL24 AKC DNA #V33165

Dam
Prin-Zel's Lady Masquerade
WP641416/01 11-97
Harl
Pedigree for DND Saravilla White Irish Rose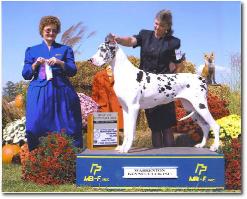 Rosie taking Winners Bitch, Best of Winners and Best of Opposite Sex at Warrenton Kennel Club under judge Marcia C. Tucker on 09/28/07